What is a Schedule in DreamClass?
In DreamClass the schedule is the timetable of your class. To set up the schedule you simply add lessons on the calendar view. The lessons are recurring or single lessons. To set up your school schedule follow these simple steps:

Select any of your classes and choose the tab "Schedule"

Click the day & Start time and select recurring or single lesson depending on your set-up

Add the duration i.e. 60 or 120 minutes and hit "Save"

If you want you can watch this quick video to help you set up your schedule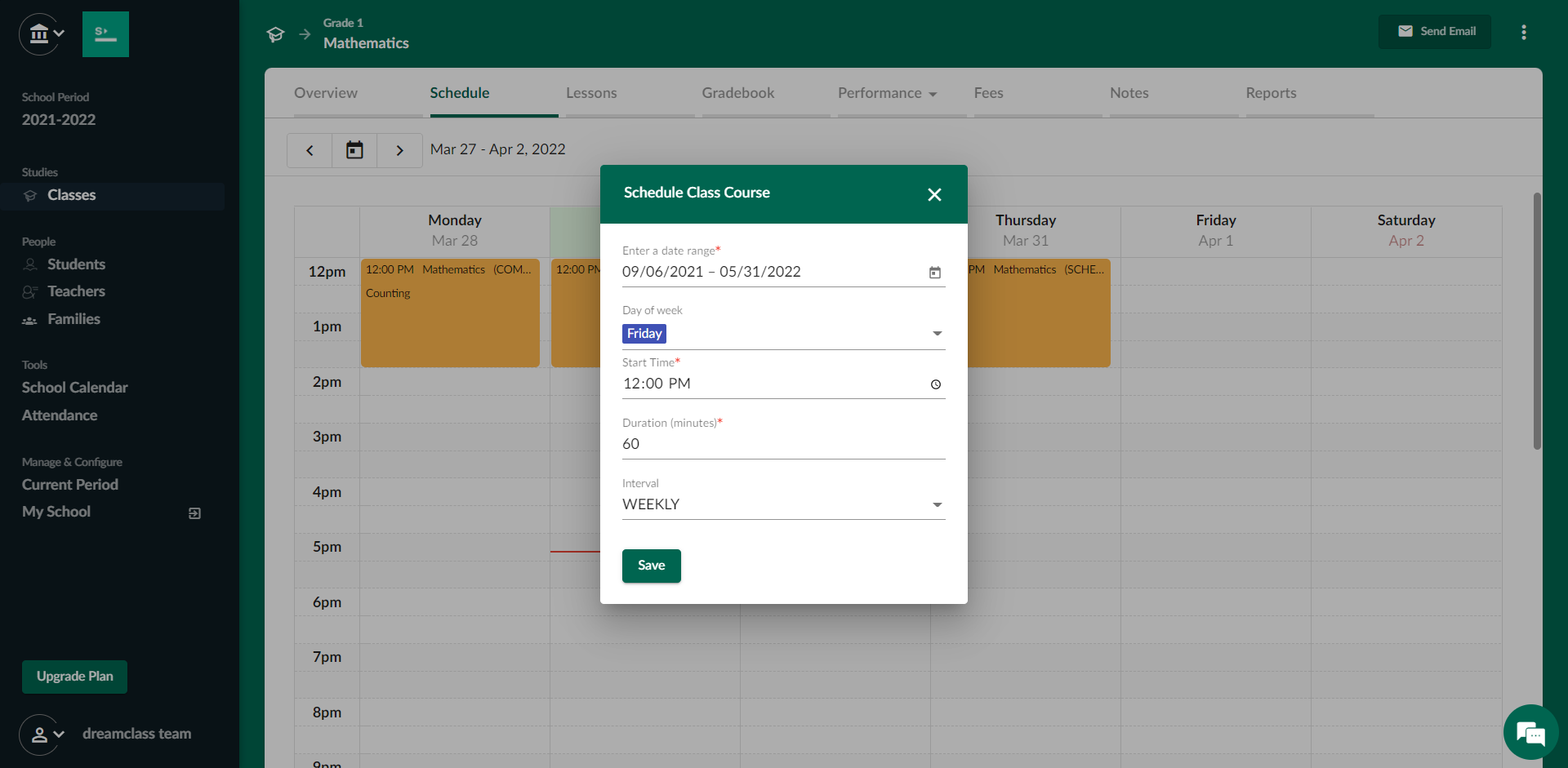 Class Schedule
You have now added the class schedule!

All scheduled lessons can be viewed by the whole school on the school Calendar section on the left hand side of your screen.

Related Articles

Getting started with DreamClass

Welcome to DreamClass! This article will help you get an overview of the steps you need to take to set up your DreamClass account for your school. 1. What is a school period The first time you login to your account you will find a prefixed school ...

What is a lesson in DreamClass?

In DreamClass we use the word lesson to describe a teaching day. Lessons are created automatically as soon as you set up your class schedule. If you are teaching a Mathematics class on Tuesdays at 10 am - this is a lesson in DreamClass. A lesson has ...

How to track attendance in DreamClass

Login as an admin in your DreamClass account and follow these simple steps: Step 1: Create a new event on the Class Schedule Navigate to Class> Subject and click on the Schedule tab. Add a lesson/event on the schedule. It can be Single Lesson or ...

How can I manage my School's Schedule

To view your school's timetable click on "School Calendar" at the left-hand side menu. This will lead you to your school calendar and you can see all classes that are scheduled for the week, day and month. If you just started to set up your school, ...

Managing Guardians with DreamClass

With DreamClass, you can create Guardian profiles and link them with Student profiles. A Guardian may be linked with multiple Students (case of siblings etc.) and a student profile may be linked with multiple Guardians (mother, father etc.). Students ...